San Anselmo Siding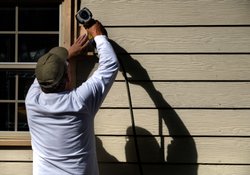 What does your home's siding say about it? With new siding, a San Anselmo
siding contractor
can increase the appearance and curb appeal of your home. New siding increases the value of your home while also increasing its energy efficiency, saving you money on your energy costs.
Do You Need New Siding on Your Home in San Anselmo?
The siding on your home is a significant cosmetic and architectural component. It protects your home from the elements and provides it with a distinct personality and profile. In a location like California, where your property is likely to suffer significant quantities of weather each year, you need siding that can withstand the elements.
Even while the siding is highly long-lasting and sturdy, it may ultimately need to be replaced or repaired. To keep your house appearing new, we provide siding installation, repair, and replacement in San Anselmo. Our expertise can make your property appear fresh again, whether you want to keep the original attractiveness or create a new style.
To ensure the lifespan of your siding, employ skilled contractors that can provide long-lasting and cost-effective roofing solutions. Northern Pacific Roofing is the contractor to call if you live in or near San Anselmo. We have a qualified and committed team of specialists ready to install, repair, or replace your roofing and siding.
Siding Repair and Replacement in San Anselmo, CA.
Siding Inspections - Our professionals will check your siding before providing an estimate to determine whether replacements or repairs are required
Siding Repair - If your siding has recently been damaged, we will identify the best course of correction and deliver exceptional craftsmanship
Siding Replacement - Northern Pacific Roofing will give your house a fresh new look. Don't allow a drab, droopy, outdated facade to drain the life from your house or workplace. With high-quality siding, you can shift the energy within your home
Siding Installation - We are dedicated to giving your building the outstanding vibe it demands and will be difficult for passers-by to forget. We work with the timetable you provide us and do everything we can to meet it
Check out our A+ rating from the Better Business Bureau by clicking HERE.
Call the Best San Anselmo Siding Contractor in Town!
Not all San Anselmo siding contractors think alike, and not all building materials are the same. Northern Pacific Roofing understands that a cleaner, fresher, younger appearance impacts how others see your facility and make them want to meet the people within. With a new design, you may gain favor with clients, vendors, and purchasers, and even wow your grumpy mother-in-law. Call
(415) 456-3482
now for a free estimate!